NEWS
Latest news and announcements from the Institute.

Latest Update: 2017.01.13

2017.1.13
Future
Learn

Free Online Course 2

"Sino-Japanese Interactions through Rare Books"

---
Understand more about Chinese books, language and culture. Learn about the development of Japanese culture, and explore the connection between books and religion in East Asia.
In our new course on FutureLearn—UK-based MOOC provider—we'll examine how big an impact that books brought from China have had in Japan, as well as looking at how books and religion are connected in Japan and East Asia, and the history of publishing in Japan.
This new course starts from 6th March, however, the registration page is now open. Visit the following URL to join and study our latest online course.

https://www.futurelearn.com/courses/japanese-rare-books-sino/1/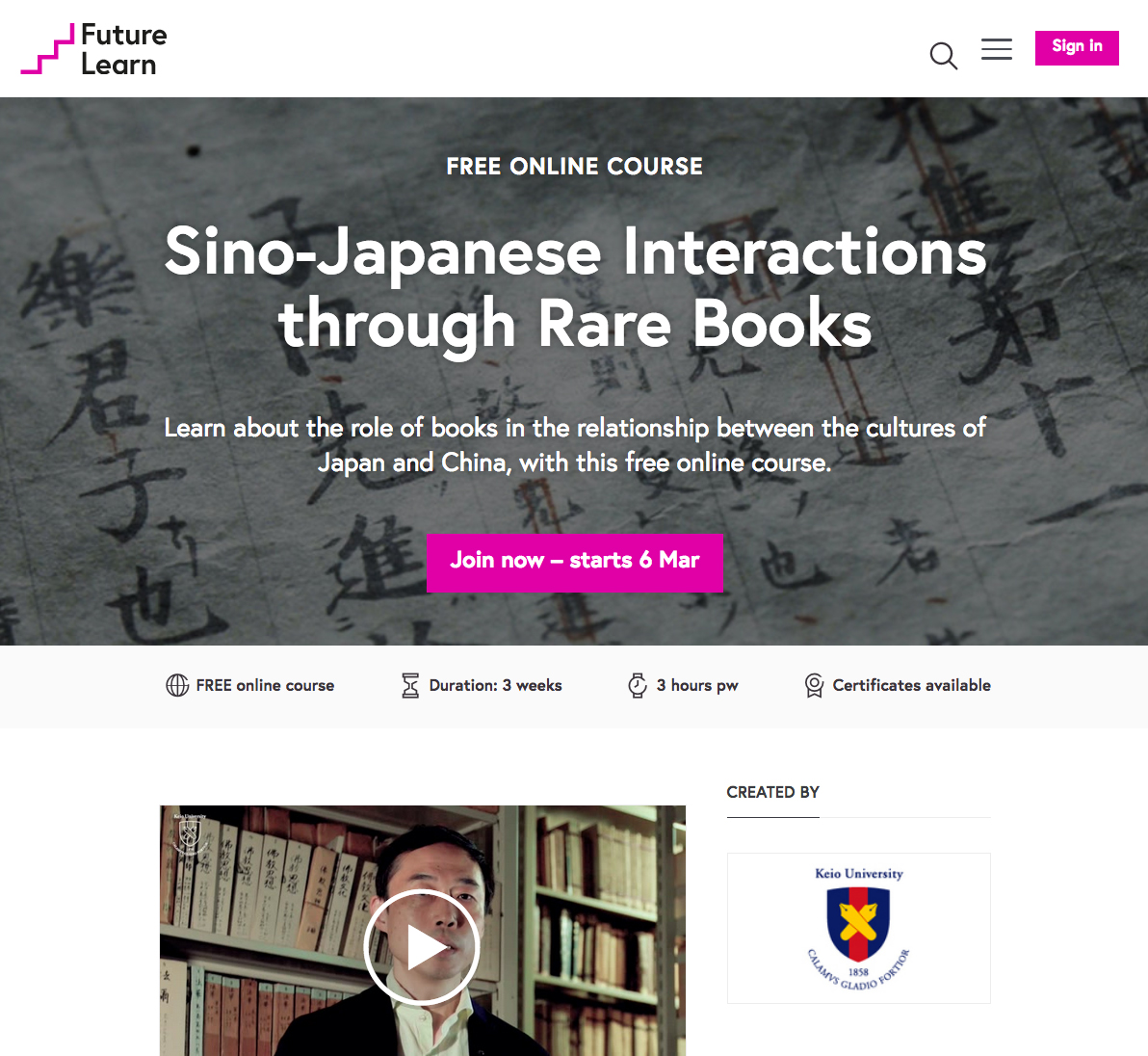 2017.1.9
Future
Learn

Free Online Course 1

"Japanese Culture Through Rare Books"

---
After a successful first run in 2016—by over 8,000 registered users from more than 80 countries with high user satisfaction rate—the course, Japanese Culture Through Rare Books, started its rerun from 9th January, 2017.
This is an introductory course and is open to anyone with an interest in the history of Japanese books. By studying old books, you can learn a great deal about the geographical areas in which they were made, the historical background, and the individuals and groups involved in their making. Using a wealth of multimedia content, we will take a journey through the wonderful world of traditional Japanese book, covering extensive visual materials from the Institute of Oriental Classics collection and the Keio University Library collection.
Registration for this course through FutureLearn—UK-based MOOC provider—is now open. Visit the following URL to join and study this online course.

https://www.futurelearn.com/courses/japanese-rare-books-culture